Applied Arts Awards
2015 Interactive Awards Winner & Published in Applied Arts Magazine (Wondereur Website). Role: Website Design & Development
Webby Awards
Wondereur Website Nominated in the 2014 Webby Awards for Best Art Website (alongside Artsy & The Creator's Project) Role: Website Design & Development
Webby Awards
Wondereur Website Nominated in the 2014 Webby Awards for Best Use of Photography (alongside National Geographic & National Film Board of Canada) Role: Website Design & Development
We believe in the good of humankind and share it through our work
JRC9 Design Studio empowers change makers by creating and managing their web presence, enabling them to reach a broader audience, and by working together to make the world a better place.
We are looking for innovators who are interested in building unique and engaging online experiences to facilitate their mission.
The Team
Cora and Jon sit side-by-side collaborating in their light-filled workspace at the Centre for Social innovation and bring their creative minds together to form JRC9. They like to push each other to achieve more than they could on their own. Their skills complement each other's to provide you with beautiful, functional, and responsive design.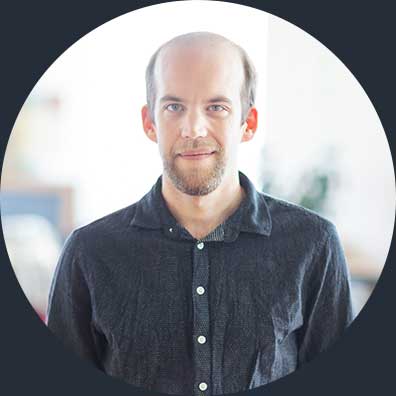 Jonathan Cohlmeyer
Jon used to design websites for fun after school. Now, he is the web developer and founder of JRC9.
Jon has BFA in Fine Arts at Memorial University of Newfoundland where he specialized in sculpture and photography. He is a graduate from the Sheridan Web Design program, where he first met Cora, and learned how to combine his skills in web development with design, web usability, and information architecture.
Today, he focuses his full attention on front-end development and spends his free time creating sculptures, developing prints in the photography darkroom, browsing galleries, and learning about design.
Cora Cohlmeyer
Surrounding herself with change makers who are striving to make the world more beautiful constantly inspires Cora.
She is a passionate Interactive and Graphic Designer who loves collaborating with these change makers and bringing their stories to life. Cora finds inspiration everywhere she goes and she puts this attention to detail into her web design work.
After graduating from the Sheridan Web Design program, Cora identified her desire to focus on interactive design. She is also an experienced print designer who strives to improve brand identities. Cora believes that design is a key factor in creating impact. Have an idea that will make the world more beautiful? Let's Chat.
Inspiring Change Makers We Love Working With
"I had the pleasure of working with Cora and her team on the development of a new website for the Culture Division, City of Mississauga. Cora is bright and passionate about her work. She really helped us to develop the website so that it was user friendly, including user testing and many design features that we hadn't even considered. She has a strong understanding of government processes and some of the quirks that come with large bureaucracies. I would highly recommend Cora and her team."

"JRC9 has a knack for intuitive design and clear project management. After a thorough survey of design studios in the GTA, the Teach For Canada team was pleased to work with the JRC9 team to launch our website. Many of our stakeholders have commented on the ease-of-use and visual appeal of our JRC9-designed site. We consider JRC9 as a key partner in our work to connect committed teachers with northern First Nations communities."

"Cora and the JRC9 team were integral to the successful launch of our new brand. We appreciated Cora's collaborative attitude and individualized approach - she really took the time to understand our organization and stakeholders. Cora's genuine passion for design, creativity, and intuition set her apart from others in her industry. We look forward to working with her and the JRC9 team for years to come."

"I've known Cora for over four years and I've never met someone more passionate about design. With total confidence in her abilities, I hired JRC9 to help develop my website, and I am thrilled with the results. Not only is Cora an wonderful designer, but she truly cares about her clients and went above and beyond my expectations. I very highly recommend her!!!"

"Cora and Jonathan are talented, patient and thorough web designers. We are thrilled with the work they did on Gallery44.org and very happy with the site maintenance services they provide. Thank you, JRC9!"

"Cora and Jonathan have this extremely rare quality to perfectly combine high work ethics, strong design insights and creativity, and high quality of programming. We are honoured to be working with both of them."

Our Services & Web design Process
We connect with you to learn your story
We start the web design process by looking at the big picture and asking questions. Is the brand as strong as it could be? How can we improve or create strong structure for the website? How can we improve the usability or the content on the website?
We design a visually appealing and easy-to-navigate website
We specialize on creating responsive websites that work on any device. We test our websites with real people in order to improve the usability of the websites and create a great experience.
We bring your site to life and keep it updated
We create responsive web pages that work on any screen size. We build websites on easy-to-use platforms, such as Drupal, that make it easy for you to edit the content on your website. After creating a website, it will need support and updates. We help by maintaining websites, such as updates and bug fixes.
We offer green, sustainable, and simple hosting
Our hosting provides support for beautiful web fonts, CDN, and other features.
Are you a change maker? We would like to chat!